Earning Real Money on the Road
Back in February 2018 I posted a photo of myself on Instagram holding a mop in a stranger's kitchen and wrote an Instagram post about how I used zero-hour contracts, new apps like Helping and websites like gumtree to find casual work to fill the gaps between adventures in Kiwa the campervan.
Later that month, I continued to travel full time, and work full time whilst living inside the van. Now, as I reflect on a year of van-dwelling and consult my bank account, I decided to let you know how I earned enough money whilst having a lot of fun.
Firstly, I started with nothing. There was not a penny of savings stored up, no inheritance and no trust-fund. When I would introduce myself as a van-dweller and continuous traveller to strangers there was a 50/50 split between those that were in awe of the freedom and bravery, and those that thought I was a rich girl on a jaunt in the world with Daddy's wallet. I wrote a previous blog post here about how I fitted out Kiwa on a budget, and trust me I would have spent more if I had the money.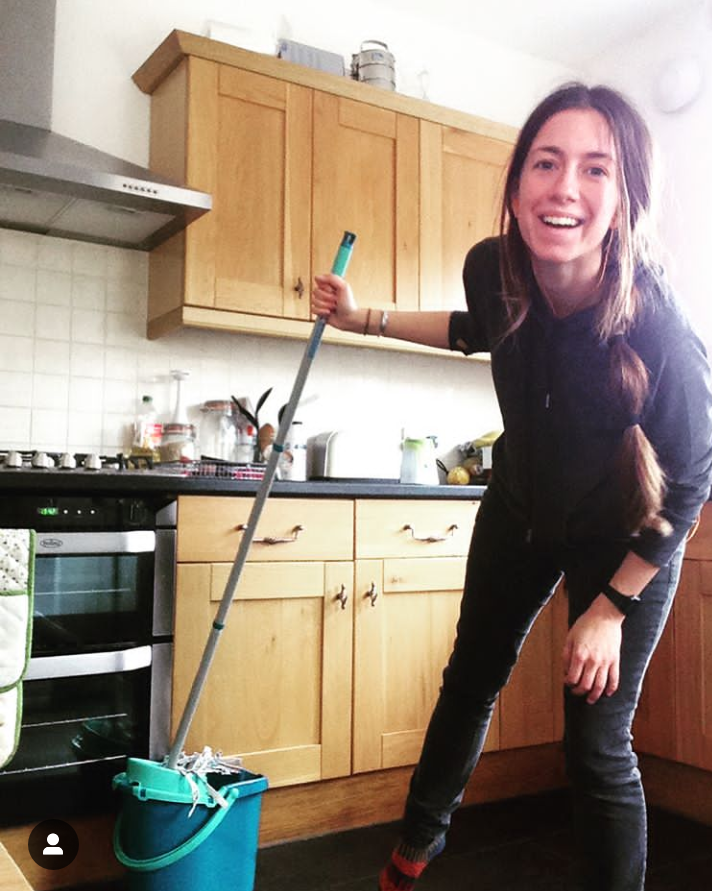 Earning money initially was easy- I was travelling the south west, sticking to the coast and it was approaching Easter time. Also, the weather was delightful and would stay so all summer. I picked up jobs with immediate starts through job boards such as Gumtree, Indeed and Care.com. Initially, I had only a tiny portfolio of online work and it would have been impossible to sustain myself on writing alone. I ended up mucking out at farms, helping holiday parks and campsites during busy periods and babysitting or pet-sitting.
Later, as I tired of working with people in jobs I wasn't particularly passionate about, although enjoyed nonetheless, I decided to focus my efforts on finding remote online work. This timing was convenient as summer was drawing to a close and I realised the seasonal work I was picking at would no longer exist within a few months. My thinking was that I could work anywhere as long as there was a good enough wifi connection- this was proved wrong within a few weeks- I'll explain later. I'd always dreamt of working for myself, ever since I was bullied out of Tesco as a tiny teenager, and my determination was renewed every time I was fired from another job. Firstly, I started by signing up to affiliate programs, I tried to push bikinis and sunglasses online but found plugging merchandise on Instagram for rewards like hefty discounts for items I didn't need, nor had space for in my tiny van, didn't feed me with real food. I was going hungry and the bank was not happy-not that I care about the bank, but I do care about those hunger pangs.
Taking the leap into self-employment is a huge, daunting life change. The safety net of a continuous salary, however little, and the unhealthy comfort of a tiny workload will disappear. I realised that if I wanted to succeed and work under my own terms, I'd have to put in an effort I was not familiar with. Slacking-off would mean I wouldn't earn anything, and my boss was me!
I continued to search for jobs on job boards like Indeed and Gumtree except now my search had intensified. Instead of looking for low-paid entry level and temporary jobs wherever I was headed, I searched for jobs with the keywords 'remote', 'virtual' and 'home-based'. Eventually, after a lot of sifting, you'll see that there are jobs out there for those with little experience. I picked up a role as an Event Coordinator which I work remotely only two days a week. I also discovered websites such as workinstartups.com and internwise.co.uk, and quickly found that the best place to get experience and opportunity would be working cheaply for new businesses- two of which increased my pay by 100% within six weeks. Alongside this, by regularly posting a blog (on here, on youmeandanxiety.com, globalgirlleader.com etc), I picked up regular work as a Freelance Social Media Manager and Writer where I look after the social media marketing campaigns for others. I get to work whenever suits me, but I can't just sit at my desk and pretend to work- I certainly cannot Fudgel- because as soon as I don't perform well, I simply won't get paid.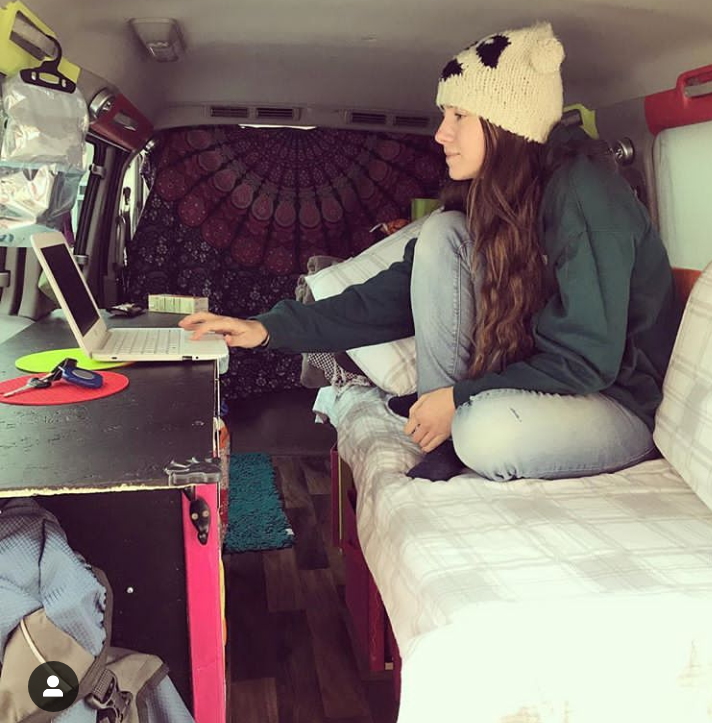 Now that I was getting paid and kept busy with work sometimes, I realised there were chunks of time during the day that I wasn't out having fun and exploring, but where I wasn't working or earning money. I still had a financial deficient and still had free time to fill. So, along with enjoying the Devon and Cornwall coast, I signed up to websites that allowed me to earn money by using my skills and organising my own time. Tutorful was the most useful in getting work quickly and being able to update my availability and location easily. I could set my own prices and chose when to work, also, if I moved far, I could choose to change my location if I was offering lessons that weren't online. I taught a mixture of online lessons and one-off sessions and found there was never a shortage of work. Another useful app that I had used before was Helping, although harder to change your address and get enough work in rural areas, if, like me, you enjoy giving a house a good nosey whilst scrubbing it clean for a few hours, then this was a fantastic way to earn some petrol-money.
Obtaining all this work depended on being able to formulate a CV, apply to jobs (all were listed online) and send out applications (all, again, online). I needed a reasonably good laptop, reliable wifi connection, a smart phone and a decent organisation system- I had a bag which cradled my laptop, diary, notepad and trusty pencil case which I took with me to a local library or café each day. I also purchased a wifi dongle from a different service provider than my phone. Luckily, my phone has a great sim-only deal which includes unlimited data and I regularly used the mobile hot-spot function on my new smart phone but as I was often in small villages and tiny towns and, a lot of the time, in the-middle-of-bloody-nowhere, I struggled to get any phone signal but the dongle would work if I was lucky. The whole process made me realise that without credit, or a large enough dollop of cash beforehand, getting a job is extremely hard. Anybody who is homeless, and especially rough sleepers are unlikely to be able to access a computer or a smart phone to be able to get a job to help them from poverty. I'm still looking into solutions to this but there are things you can do to help such as helping stop your local library from shutting down and supporting fantastic charities like Crisis, who aim to end homelessness
Now, as I spend the weekend organising my receipts and frantically filling out my Tax self-assessment with less than two weeks before the deadline, I realise that financially, I did ok earning money on the road. Undoubtedly, the moment I moved into a house for the winter I saw my productivity rise rapidly; I was not wasting time finding suitable cafes with free wifi or setting up office at a free desk in a local library each morning. I also realised that with physical comfort (i.e. a chair and desk and central heating) I was able to focus on my work well. The lack of distraction also made my hours more productive although the unlimited time I had with a warm office and decent wifi did mean I was often caught reading irrelevant articles or watching cute cats on youtube. In conclusion however, I persistently remind myself that the adventure of living and working on the road was most conducive to producing original, creative content; nothing exciting happens within four walls when you are alone all day- people watching, for example, just doesn't work. Making money whilst travelling is possible nonetheless. Perhaps now, in a digital and connected age, more people will have the freedom to work remotely. Good luck!