This week has been filled with exciting visits from excited friends curious about the beginnings of van life in a functioning van (my last attempt at van life was in a dying VW T25). Whether we have shared a chocolate bar or squeezed into the van together to attempt to lay a floor, their company has been invaluable at keeping me sane these last seven days.
As I document the campervan conversion on Instagram-a social medium I had previously maintained a healthy distance from-I have also been offered praise and encouragement from friends and strangers.
---
Big Sister Caroline helps fix the floor during her free time. Thanks Sister!
---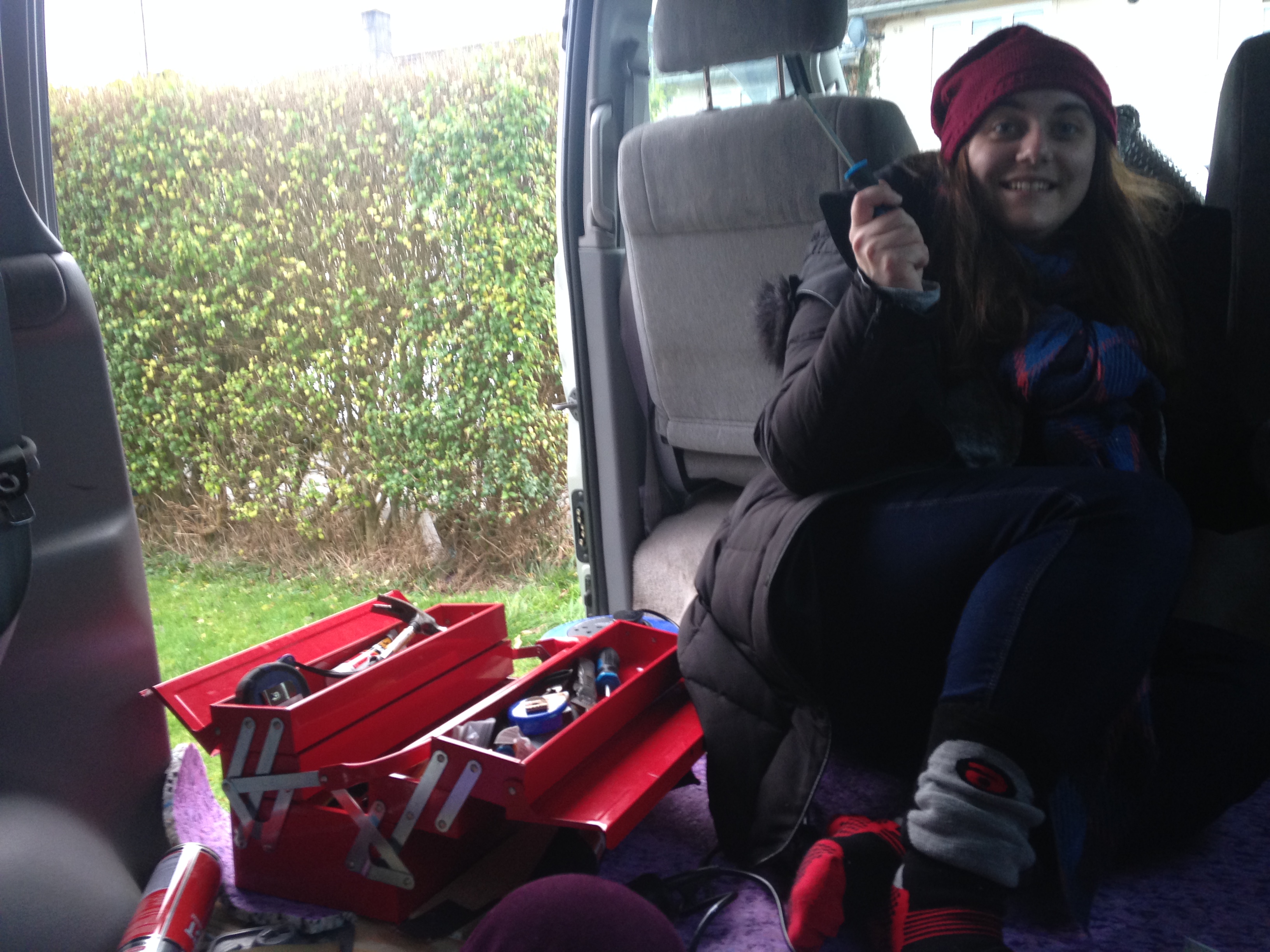 Our social networks-face-to-face or online- are vital to build and maintain friendships. I am simultaneously filled with happy anticipation and mild anxiety to eventually participate in van-life meet-ups which are often organised entirely by communities of van-lifers on social media. Mostly, though, I am thrilled to be nearing completion of a vessel that will allow me to travel to the distant places my friends have wondered; their heart-warming encouragement from afar-through WhatsApp groups or late-night FaceTimes keep me going especially during this cold and damp winter.
Apparently, many social studies have concluded that most adults have about two best friends and about 150 significant friendships or acquaintances. I think this is about right for me; my small handful of some of the best humans on Earth-available anytime for a late night crying session, or willing to jump on a train the moment I buy a new toy (or something bigger!) and a larger community (online or hiding in my phone contacts) of personal cheerleaders and pyjama counsellors. A quick google of the benefits of friendship show that those with a larger network of friends suffered less stress and were likely to live longer- and my existence is very proof of this. In the many times I was taken ill or disappeared or became stuck in a broken down vehicle twenty miles from civilisation, nearly froze in the middle of Dartmoor Forest, or in a crying depression in the French Alps, it was my small army of friends that have rescued me. They have searched hospitals across the city, sent me regular messages or made international phone calls every day for a whole month, made handmade gifts, put me in their prayers even though I am not religious and baked me a cake, and they are the companions that make my life better. This week I am openly thankful to the complete stranger with the power tools who helped remove the van seats, for the hard work of my existing friends for putting up with me, bailing me out, and crossing countries to visit me, and, finally for John who on Thursday used my old, rusty tools and a blunt saw to cut the wood which is now secured in my tiny-home without moaning once and maintaining a smile the entire day, and I hope that soon, I will be free and happy enough to return the favour.